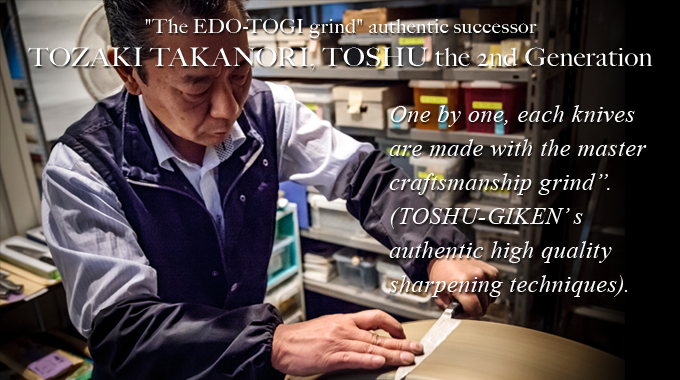 Greeting
Our beliefs and craftsmanship are based on artisan's spirits, from the Edo era.
We use the original grind technology called "flame polishing forging" and "the EDO-TOGI grind". These traditional methods have taken over to today's products, from the beginning of the establishment.

"Flame polishing forging" applies techniques that the way of manufacturing Japanese sword. In addition, we are commit to hand-made traditional hammering, with the flame of 1,000 degrees Celsius.

"The EDO-TOGI grind" is an authentic sharpening style. In Japan, there are a few people success its craftsmanship officially. Placing the knife position 3:7 to the center, one side sharpening almost vertically, and the other side curving along the clam shape. Many methods as Edo techniques are into the TOSHU's products.
We have confidence about our hand- made productions and all processes, it's far from mass production one.We spending a great deal of time and efforts for the hardness, flexibility, tenacious, abrasion-resistant, fatigue resistance, corrosion resistance, and many advantages are based on our efforts.

Our blades are loved by professionals because it have less effect on fresh ingredients, not like steel-flavor or too much oily.Elaborated products by TOSHU are able to revive the kitchen knife repeatedly, so you can keep it for a long time.
Each traditional skills and elaborating techniques are inherited from craftsman in Edo era to today's studio.
All dishes begin with the brilliant knife...

For your gourmet cuisine, we hope you enjoy cooking with the great hand-made forging kitchen knife.Not only the professional chef, but also everyone looking for some good cookware, it's very useful.